1. Ishant Sharma is God's answer to BCCI's wrongdoings.
बी सी सी आइ – के ग़लत काम का नतीजा है ईशांत शर्मा!
2. Newton's 3rd law modified: For every N Srinivasan, there is an equal and opposite Ishant Sharma.
न्यूटन का नया लॉ – हर सृनावासन जैसे खिलाड़ी क लिए है 1 ईशांत शर्मा जैसा खिलाड़ी – मित्तिपलीत
3. Dear Dhoni, Sale out Ishant Sharma on Online Mart like OLX.
प्रिय धोनी, कृपा कर के ईशांत शर्मा को olx पे बेच दे
4. Ishant Sharma makes people miss Ashish Nehra.
ईशांत शर्मा क कारण लोगो को आशीष नेहरा की याद आती है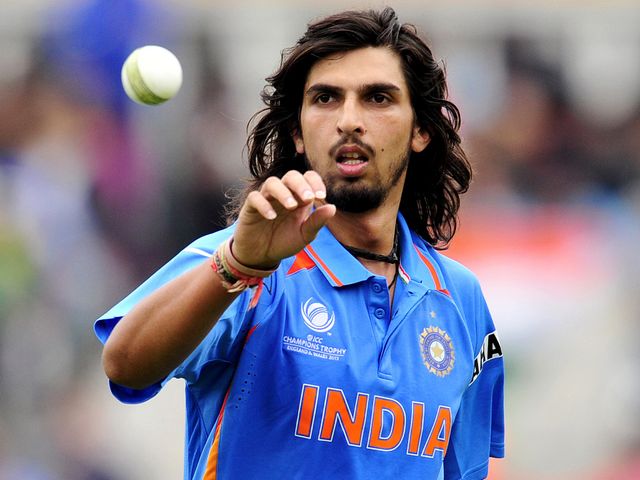 5. Dhoni would have bowled better than Ishant Sharma. In fact, even Duncan Fletcher would have.
धोनी ही अची बोलिंग करलेता ईशांत शर्मा में से तो या फिर डंकन फ्लेचर
6. It wasn't Faulkner, it wasn't Voges. Australia's match winner tonight was Ishant Sharma.
ना फॉकनर ना वोगेस ऑस्ट्रेलिया का हीरो ईशांत शर्मा ही है
7. If ever there was an Orange Cap award for bowlers, Ishant Sharma would win it hands down.
ऑरेंज कॅप बोलिंग का अवॉर्ड तो ईशांत शर्मा को ही मिलना चाहिए – अगर कभी ऐसा हुआ
8. Ajit Agarkar would be having second thoughts on his retirement after looking at Ishant Sharma bowl.
अजीत अगरकर क खायाल भी बदलने लगे होंगे रिटाइयर्मेंट के बाद ईशांत शर्मा को देखकर
9. Restaurants to rename 'unlimited' offer packages to 'Ishant Sharma' packages.
अनलिमिटेड ऑफर भी अब बनेगा इंशांत शर्मा ऑफर
10. Ishant Sharma should be called Lord Ishant Sharma henceforth.
ईशांत शर्मा को अब बुलाना चिए लॉर्ड ईशांत शर्मा हेन्स्फोर्त
11. Ishant Sharma doesn't like to cut his hair because he wants to hide his face when bowlers thrash him around the park.
ईशांत शर्मा अपने बाल इसलिए नही कटवता ताकि उसका चेहरा ढक सके
12. BCCI should consider giving Ishant Shamra voluntary retirement.
ईशांत शर्मा को मिलनी चाहिए वॉलंटरी रिटाइयर्मेंट
13. When Ishant Sharma bowls, it's a working holiday for all fielders. Of course, the spectators are the real fielders.
ईशांत शर्मा की बोलिंग क टाइम फीलडरर्स की छुट्टी को दर्शको की मुषककत
14. Ishant Sharma doesn't need a towel to indicate that he's giving away runs.
ईशांत शर्मा को टोलिए की भी ज़रूरत नही ऋण पॅड्वा ते हुए
15. Colors to give Ishant Sharma a wild card entry to Big Boss season 7.
बिग्ग बॉस 7 में मिलनी चाहिए ईशांत शर्मा को वाइल्ड कार्ड एंट्री
16. Abey Kuruvilla can bowl better than Ishant Sharma.
कुरुविला भी अची बोलिंग करलेता ईशांत शर्मा से
17. Dhoni isn't India's greatest finisher, Ishant Sharma is.
ईशांत शर्मा ने धोनी का भारटिए ग्रेट फिनिशर होने का खिताब भी छीन लिया
18. Ishant Sharma has the ability to overshadow Sir Ravindra Jadeja.
ईशांत शर्मा में वो खास बात है जो सिर अजय जडेजा को भी भुला दे
19. At this rate, Ishant Sharma would end up with the most number of centuries (with the ball) for India in ODIs.
ईशांत शर्मा ही है जो इंडिया में सबसे ज़्यादा सेंचुरी का रेकॉर्ड बना सकता है वो भी बोलिंग करते हुए
20. LOL is Ishant Sharma's middle name.
अबसे ईशांत शर्मा का नाम होना चिए ईशांत लॉल शर्मा
Note: May be he was giving the credits to Australia as according to Ishant sharma once Australia helped him getting his rhythm in a test series help in March'2013.
ध्यान दे: लगता है की ईशांत शर्मा ने अपना फ़र्ज़ निभा दिया और ऑस्ट्रेलिया की सहायता का बदला चुका दिया जो उसने खुद कहा था की ऑस्ट्रेलिया ने उसका हाथ फिर खुलवा दिया मार्च 2013, क खेल में!